Return to Roman Ruins in Britain
Fishbourne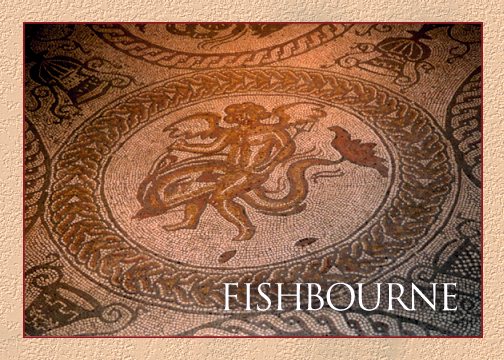 Originally the site of a military supply depot established early in the conquest of Britain, by the end of the first century AD Fishbourne had become the most sumptuous palace in all of Europe, except for Italy, itself. There were four wings arranged around a formal garden, with colonnades, halls, and magnificently decorated rooms of Mediterranean workmanship and design. Only one wing now is visible.

Fishbourne may have been the palace of Cogidubnus, a client king who fostered the early Romanization of his territory. In honor of the emperor who had granted him citizenship, he adopted the name Tiberius Claudius Cogidubnus, and "maintained," as Tacitus records, "his unswerving loyalty down to our own times." Fishbourne probably was built in recognition of that devotion.

Nearby at Bignor Roman Villa are some of the best preserved Roman mosaics in Britain, including figures of Medusa, Ganymede, and Venus, as well as cupids depicted as gladiators.