Return to the Early English Church
Jarrow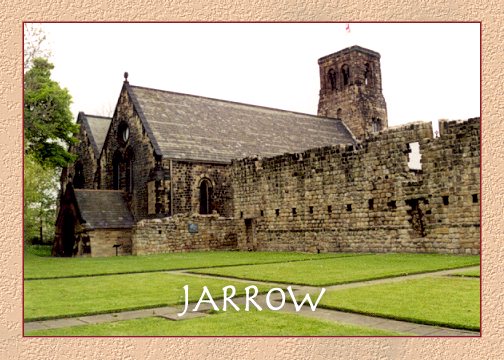 "I was born in the territory of this monastery [Jarrow]. When I was seven years of age I was, by the care of my kinsmen, put into the charge of the reverend Abbot Benedict and then of Ceolfrith, to be educated. From then on I have spent all of my life in this monastery, applying myself entirely to the study of the Scriptures; and, amid the observance of the discipline of the Rule and the daily task of singing in the church, it has always been my delight to learn or to teach or to write."

Bede, Ecclesiastical History of the English People

In AD 681, ten monks and twelve novices came to Jarrow, sent there by Benedict Biscop, a Northumbrian noble who had become a monk and founded the nearby monastery of St. Peter's at Monkwearmouth seven years before. There, under the guidance of Ceolfrith and with the help of stone masons and glaziers from Gaul, they built the sister monastery of St. Paul's, much of it from Roman stone, possibly taken from Hadrian's Wall or the fort at South Shields. The church was dedicated in AD 685, as still can be read in the inscription above the western arch of the tower.

High on the south wall are three small, deeply recessed windows, the middle of which contains colored glass made in the monastary's own workshop. Reconstructed after its discovery during excavation of the site, it is the oldest glass in western Europe.