Sutton Hoo Helmet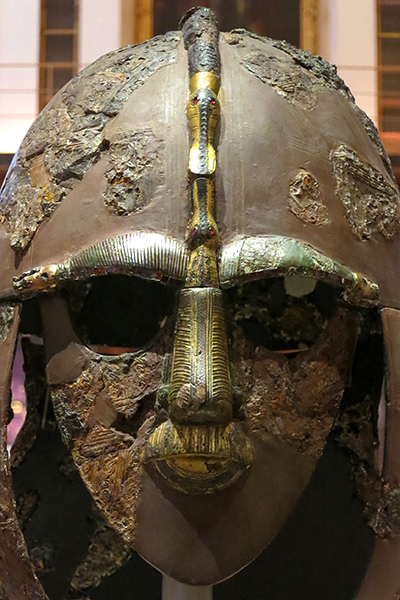 "Around the helmet's crown, a projecting rim surrounded with bands, guarded the head above, that the sword wrought by files, hard in the storm of battle, might not sorely injure it, when the shielded warrior must go forth against foes."

Beowulf

"There was many a helmet, old and rusty, many an armlet, twisted with cunning. Treasure, gold in the earth, may easily get the better of any man, conceal it who will."

Beowulf

The first helmet (top) was found at Sutton Hoo, only its gold fittings remaining completely intact. The second (above) is a reconstruction, showing how it may have looked. Both are in the British Museum.

The helmet is one of only three from the Anglo-Saxon period. The others are from Coppergate in York and Benty Grange.