Frieze of the Temple of Vespasian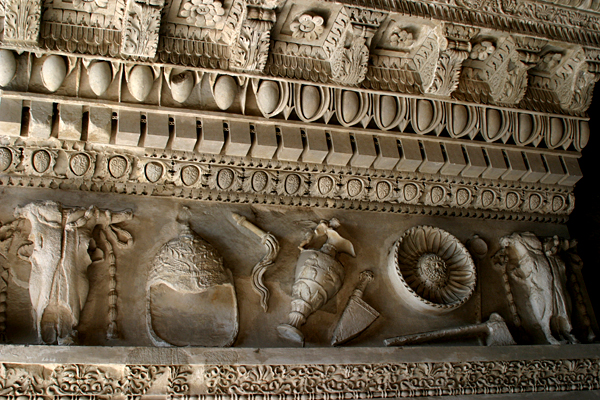 Below the egg motif and dentils of the cornice, this restored section of the frieze, a beautiful example of Flavian decoration, shows the implements of sacrifice (helmet, knife, axe, plate, jug) and ox skulls or bucrania.

| | | |
| --- | --- | --- |
| | | This detail from an etching by Giovanni Piranesi is entitled Veduta del Tempio di Giove (1756), when the temple was mistakenly thought to be that of Jupiter Tonans. Covering the three columns almost to their capitals, the huge amount of earth, which had accumulated over the centuries, was excavated to the foundation of the temple itself in the nineteenth century. |

---

Reference: Views of Rome: Then and Now: 40 Etchings by Giovanni Battista Piranesi (1976) by Herschel Levit (Dover Publications).