The first study of cone snail envenomation was conducted in 1932 by Hermitte, who reported on a patient who had been stung by a C. geographus (Geography Cone) in the Seychelles Islands in the Indian Ocean. Within an hour, the patient's body was completely numb and even nine hours later he still was unable to stand. Curious that a creature measuring less than three-and-a-half inches could completely incapacitate a healthy adult male, Hermitte dissected the snail and discovered the radular tooth protruding from the proboscis, the poison itself produced in the coiled poison duct of the animal. Reviewing incidents of cone stings from 1848 (when injury from a C. aulicus is noted) to 1943, including the summary published that year by Clench and Kondo, Hermitte noted five human fatalities: three by C. geographus and two by C. textile (Textile Cone) (right). The larger C. geographus that is pictured is approximately the size of the one that was studied.

Death usually occurs through paralysis of the diaphragm or cardiac failure. Given the complex array of peptides in conotoxins, there is no antivenin and, other than artificial respiration and the possible administration of an acetylcholinesterase inhibitor (which prevents the enzyme from breaking down acetylcholine, the neurotransmitter that conducts nerve impulses), no specific treatment but to keep the victim alive until symptoms abate, which can take from hours to weeks.
This imaginatively colored depiction of C. geographus is from d'Argenville's La Conchyliologie (1765, 3rd ed.).
Johnson and Stablum were the first to observe that, unlike most piscivorous cones, which hunt by extending their proboscis until it comes into contact with the fish, C. geographus opens its mouth and distends it like a net. During this time, the fish is completely quiescent, which suggests that a narcotizing or anesthetizing agent has been released into the water. It is only after the rostrum (rhynchodaeum) of the mollusk has extended over the prey that it is stung and then engulfed completely. But when the shell itself was touched (as it had been in 1935, when the shell was scraped with a knife), the rostrum was not dilated as it would have been during feeding. Instead, only the proboscis was extended, which suggests that the venom of C. geographus is used primarily for defense. Indeed, only fifteen to twenty of its one-to-two hundred peptides are used to capture prey. The others are used for defense against predators as well as other competitors for food.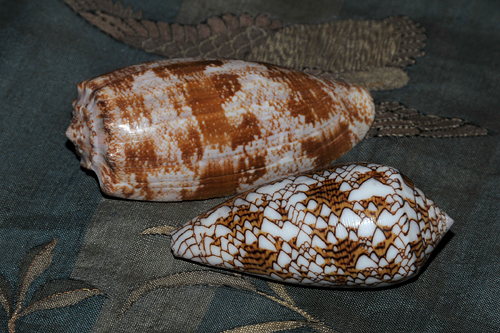 The venom that is so lethal to fish also is a potential threat to humans (curiously, C. geographus uses two different venoms in response to either predatory or defensive stimuli). Stings from a dozen or so cone species have been recorded, but actual deaths have been attributed to only two: C. geographus and C. textile. In 1963, Kohn reported thirty-seven cases of stings by cone shells and ten deaths, half of which were inflicted by C. geographus and two by C. textile (the remaining three were unidentified). Almost twenty years later, Yoshiba recorded twenty-one deaths, eighteen caused by C. geographus, the sting of which was fatal two-thirds of the time, and two by C. textile.
Given the description of the shell, the death reported by Rumphius in 1705 (the very first account of a Conus envenomation) may very well have been by C. textile. In a report by Rev. Wyatt Gill in 1876, it was "believed" to have been responsible for a second fatality in 1860. But the death of the islander, who "in the doubtful light...took a good-sized shell-fish and put it in his basket," now is thought to have been caused by C. geographus. Indeed, in a personal communication, Kohn, who maintains a database of cone envenomations, has recorded thirty-three human fatalities to date, "all probably due to C. geographus."
Yoshiba estimated a lethal dose of conotoxin in humans to be from 0.001–0.003 mg/kg (where LD70 is the amount of toxin, measured in milligrams per unit of body weight, that kills 70% of the animals tested). In two cases of envenomation, just 0.0002–0.0005 mg/kg of conotoxin resulted in severe paralysis. Other accounts, however, have indicated a LD50 (a lethal dose that causes death in 50% of cases) from 0.012–0.030 mg/kg. The U.S. Army has calculated the LD50 of conotoxins to be 0.005 mg/kg (acontine, the topic that initiated this discussion, has a LD50 of 0.1 mg/kg).
A sting from a C. geographus in 1935 killed a man in Australia within five hours. This was the first well-documented case to be reported and prompted several articles in the literature, the most prominent by Flecker, who is better known for his study of Chironex fleckeri, a large species of box jellyfish that truly is one of the world's most venomous creatures. Another envenomation by C. geographus that year in Okinawa (coincidentally, only a few days later) proved fatal within three or four hours, and in 1964 there was a death within two hours.
If potentially deadly, envenomations by C. geographus also are extremely rare, with only thirty or so deaths recorded in three hundred years. By comparison, there are twenty to fifty fatalities annually in the United States simply from the stings of bees and wasps.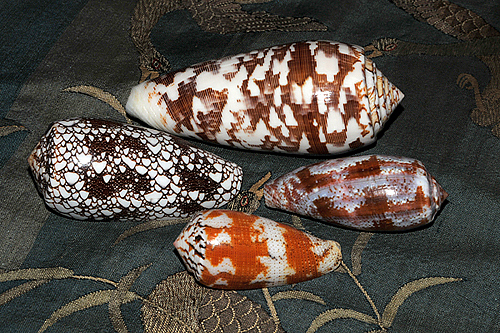 Additionally, Kohn has recorded near fatalities and severe cases of envenomation by C. geographus (3) and C. textile (1), as well as by C. omaria (1) and C. tulipa (3). In a study of the venoms of approximately three dozen cone species, Endean and Rudkin determined that the smaller C. tulipa was second only to C. geographus in the danger presented to humans and ranked the species as follows: C. geographus > C. tulipa > C. magus > C. striatus. Pictured above from top to bottom are C. striatus, C. omaria, C. tulipa, and C. magus.