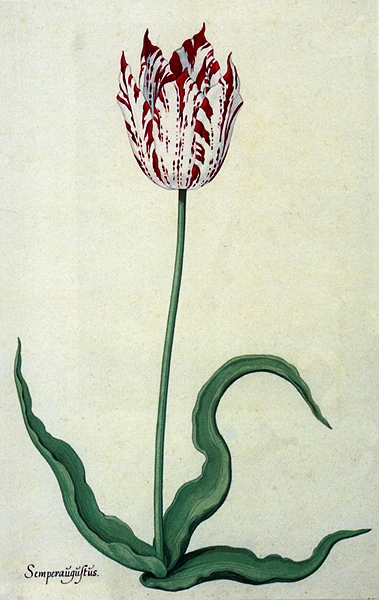 This watercolor is by Pieter Holsteyn the Younger (c.1612-1673) and comes from a tulip or flower book, which were commissioned by wealthy gardeners to record their possessions or used by commercial growers as sales catalogs. Unlike a still life, these portraits are quite plain, in which the flower alone appears against an off-white background. Nor is the bulb depicted, as it would have in a botanical illustration. The name of the flower usually is given and sometimes its price and weight. Curiously, the prices recorded on some portraits were not the ones actually being charged but those of the Alkmaar sale, presumably copied out to please those who owned the same variety of bulb.
Waermondt: I have often wanted to ask you what kind of flower is the Semper Augustus of which I have heard so much?
Gaergoedt: That it is a beautiful flower; one can but see it at the homes of only two people, one in Amsterdam from which it comes, and also here [Haarlem] at the home of one who will not sell for any money; so they are in close hands.
Waermondt: At how much is such a flower estimated?
Gaergoedt: Who shall say? But I will tell you what I have heard about it: about three years ago, it was sold for 2,000 gld., transferred at once at the Bank, with the restriction that the buyer could not sell or alienate it without the consent of him from whom he bought it.
Waermondt: So they might have been worth this winter, say, 3,000 gld.
Gaergoedt: Yes, even 6,000, and possibly more, even if it be a plant of only 200 aces.
Waermondt: The flowers greatly surpass gold and silver.
Gaergoedt: You may say gold and silver, yes, all the pearls and costly stones.
Waermondt: It is true, if you consider their beauty when in existence and take into account by whom the trade is run. But not when you look at their perishability, and consider by whom silver and gold, pearls and stone, and artistic works are esteemed; because the latter are esteemed by great people, the former by common folk.
Second Dialogue between Waermondt and Gaergoedt, Being the Continuation of the Rise and Decline of Flora (1637)
---
The exorbitant prices quoted for tulips are not always documented or verifiable. Stories, too, of bulbs being mistaken for onions and innocently eaten may be the cautionary tales of the pamphleteer or pulpit. One chronicler, however, does record that a house sold in 1633 for three rare bulbs, the transaction commemorated by three tulips being carved on its façade—an exchange presumably between the already wealthy and not the story of a simple farmer imprudently selling his family home.
The highest reliably attested amount paid for a single tulip bulb was for a Violetten Admirael van Enkhuizen (with an offset), which purportedly sold at Alkmaar on February 5, 1637 (at the height of the frenzy) for 5,200 fl. One of approximately seventy rare bulbs that were auctioned, the sale realized almost 53,000 fl, the prices for the different varieties representing in almost every case the highest amounts ever recorded. So high were these figures, in fact, that they were printed on a broadside in wonderment.
But almost simultaneously, the market was collapsing. Two days before, in Haarlem to the south, there had been no bidders for the bulbs that were offered. It marked the end of tulipmania.